The Community Partnership Foundation Grants Local Non-Profits Over $30,000 at Annual Luncheon
05/31/2023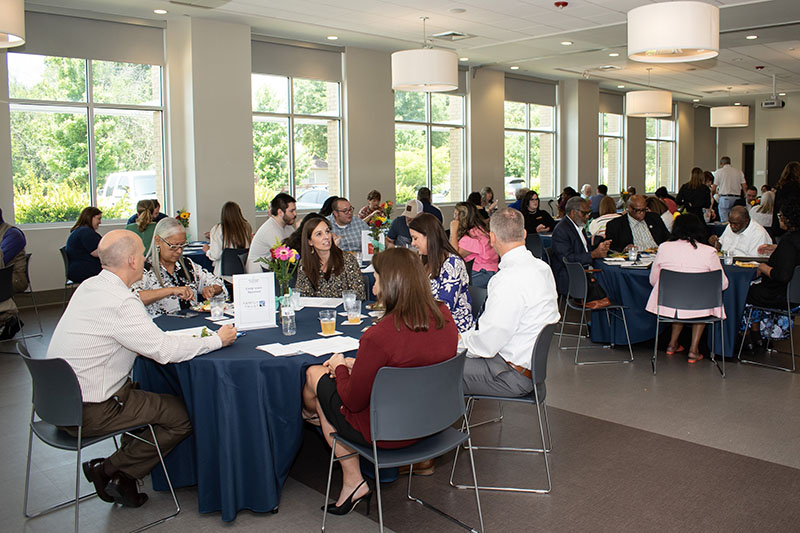 Family Trust is proud to sponsor The Community Partnership Foundation as it supports organizations that make a difference in York County. Continuing its mission to create positive change in the communities it serves, The Community Partnership Foundation (The CPF) awarded 16 local non-profits with a grand total of $30,000 in support at a recent awards luncheon. The CPF reviews and distributes grants twice a year, in both the spring and fall, to deserving York County non-profits.
As a token of The CPF's appreciation for local non-profits that are committed to advancing the dignity and quality of life in the region, organizations are encouraged to request up to $5,000 through the organization's website. Organizations that apply must have a 501c3 status, or be in the process of obtaining one, and ensure the funds will be used in York County, S.C.
"This is the first year that we've opened this event up to the public," said Janet Hadjar, president of The CPF and vice president of marketing at Family Trust Federal Credit Union. "Doing so is not only feel-good, but we hope it grows awareness and allows us to give out more funding in the future. After all, these organizations make our community a better place for all and it's our honor to support them."
The awardees for Spring 2023 are: Above and Beyond Tutoring, Adult Enrichment Centers Inc., Alston Wilkes Society, Children's Attention Home, Inc., Defend the Fatherless, Dorothy Day Soup Kitchen, Habitat for Humanity of York County, Hope of Rock Hill, Jalin's Hope, Inc, Liv To Gro Inc., Pathways Community Center, Rock Hill Schools Education Foundation, Safe Passage Inc., Showtime Theatre Company, The Haven Men's Shelter, and The Life House Women's Shelter Inc.
In addition to the grant recipients, Palmetto Community Health Care and The Manna House Pantry were named to be the recipients of The CPF's annual charity golf tournament, that will be held in October 2023. The tournament is held annually in the fall.
The CFP board is comprised of: Melissa Cassell, chair; Jonathan Meeks, vice chair, Sandra Dougherty, secretary; Tressa Watson, treasurer; Debbie Garrick, at-large, Byron D. Putman, at-large; and Rodger Culbreath, at-large.
Head to www.thecommunitypartnershipfoundation.org or follow The CPF on social media at Facebook and Instagram for updates on how to apply for the Spring 2024 round of grants.
"We encourage all eligible York County non-profits to apply for support and to reach out with any questions," said Hadjar.
A 501c3 non-profit organization, The Community Partnership Foundation was formed in 2020 to foster a vibrant York County, S.C. and one that offers an equitable opportunity for everyone. The money raised by The CPF stays in York County. The CPF offers gifting and grantmaking initiatives to a variety of non-profit organizations that bring good to York County.
View all posts