Our favorite subject is you.
Every financial institution exists for a reason. Most are here to make the greatest profit possible for their shareholders.
We exist for a totally different reason — you.
When you join Family Trust, you're not just a member of the credit union, you are an owner. And that changes things. It means we put your interests first, even ahead of our own.
It means we are here to help you achieve all of your financial goals, whether you are looking to buy a house, planning for retirement or saving to send a child to college.
It also means we're also here to make the daily ins and outs of managing your money easier and more convenient, with fewer fees and restrictions.
Every day, in everything we do, your interests come first.
Milestones
1957: Opening in a stock room, the Rock Hill Printing and Finishing Federal Credit Union helped textile workers consolidate debts and save for milestones in their life.
1988: Became Family Trust Federal Credit Union and years later, a new charter allowed us to serve anyone who lives, works, worships, or attends school in York County.
Today: Family Trust lives the credit union philosophy of "people helping people." We are dedicated to members and the community and strive to offer a helping hand when needed.
People Helping People
As a credit union owned by our members, you'll never find us using profits to please a few stockholders. We're here to help our members achieve financial success. We're members leading members — looking for ways to serve you better.
The Supervisory Committee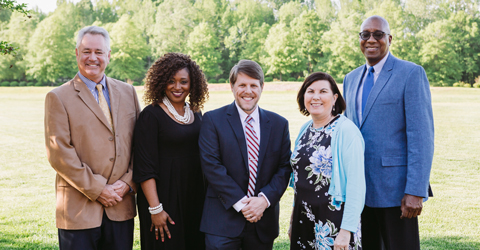 This committee ensures that the financial condition of the credit union is fairly presented in financial statements — and that controls are in place to protect our members' assets. Their goal is to confirm that operations are performed with the highest degree of accuracy and integrity. They work for you.
For any concerns or comments, please write us:
Supervisory Committee
Family Trust Federal Credit Union
P.O. Box 10233
Rock Hill, SC 29731