Simple Ways To Save
04/03/2020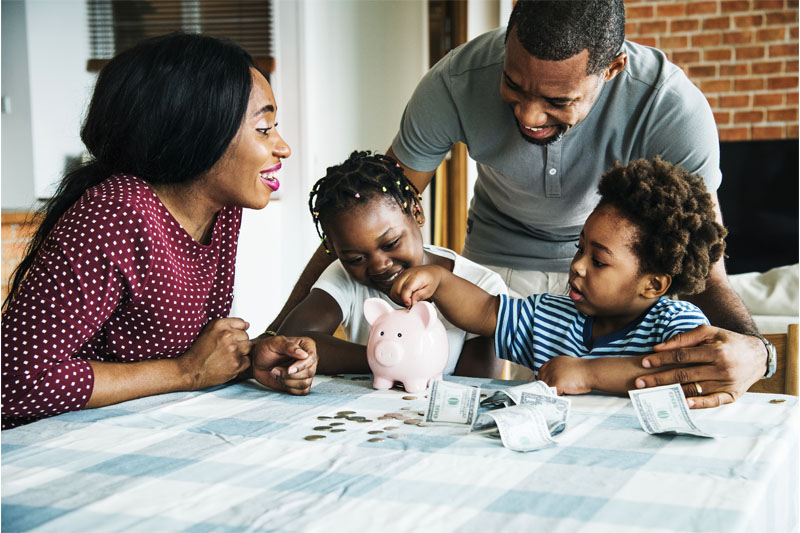 We all know we should save more money than we do. Whether we need to pay down debt, build an emergency fund or save for retirement, we need to cut spending and increase our savings. It's the only way to build financial security. Now is the perfect time to start if you haven't already done so.
Yet before considering what to cut back on, try these handy tips to save money without noticing the difference.
1.) Stop subscription music
If you pay for a subscription Internet radio service like Pandora or Spotify, you're probably overpaying for music. The same is true if you're paying on a per-song basis through a service like iTunes. Consider, instead, buying albums. You can find Imagine Dragons 2012 project Night Vision for under $5 on Amazon, or the Guardians of the Galaxy soundtrack for less than $8. Streaming music services have cut the bottom out of the physical media market, and you can pick up the savings. Just copy the songs to your computer and transfer them to your mobile devices, and you can jam out for less.
2.) Cut back on cable
Take an honest look at how many movies you watch in a month. If you're paying $15 a month for HBO or a similar fee for another premium channel package, you're paying for a lot of content you probably never watch, and the overall selection is limited. For half the price of HBO, you can subscribe to Netflix or another streaming service and get a lot more viewing options. You could even go with Amazon Prime and get free two-day shipping on all your purchases while getting access to a fairly hefty video library.
3.) Time your vacations to travel for less
Summer tends to be the most popular travel time for tourist-happy destinations like Miami and New Orleans. If you're planning a trip to one of these stops, traveling between February and April can save you money on your hotel reservation. Hotwire, the hotel booking site, sees an average decline of 30 percent at tourist locations during the offseason.
4.) Swap to an off-brand cell provider
You can cut down your cellphone bill considerably by switching away from a big-name carrier. If you're on Sprint, AT&T or Verizon, you can save a considerable chunk by switching to a brand like Cricket, FreedomPop or Straight Talk. These carriers buy time in bulk from the major companies and resell it at a discount. They don't subsidize phones or maintain well-staffed stores, so their costs are lower. You can get unlimited talk and text for one line for less than $15, and data, if you need it, for less than $20 for a 2 GB per month plan. These services don't always travel particularly well, so if you need your phone while far from home, they may not be right for you. Still, at that price, it can be hard to say no to savings on a phone bill.
5.) Start reading paper books
Just like the streaming service has cut the core out of the price for physical media, the popularity of e-readers has done the same thing to the dead tree pulp market. This is particularly true in used books, where time-tested classic paperbacks can be had for as little as a penny. More current and popular titles, like John Green's The Fault in our Stars, can be had on eBay for under $5, compared to the $10 for an ebook. Cheaper still, head over to your local library to get your fill of new releases, old classics and great books you've never heard of.
6.) Check out Amazon Subscribe and Save
For commonly used goods, like tea and coffee, Amazon's Subscribe and Save function can cut back on the time and money you spend shopping. If you go through a 72-count box of K-Cups every month, you can save $2 per month off your coffee bill by scheduling automatic deliveries of your java through Amazon. A dedicated tea drinker can save $1 per month on a 160-count box of Yorkshire Gold. With free shipping for orders over $35 (or if you have Amazon Prime, as mentioned above) and automatic ordering, this system can be your set it and forget it path to savings.
7.) Get rebate shopping!
For costs you can't avoid, like groceries, it's best to avoid as much pain as you can. That's where online rebate apps come into play. Newly released iBotta, available for iOS and Android devices, offers a list of participating retailers and a list of rebates, usually between $.25 and $1. One of the most popular is a $.25 rebate on a gallon of milk – something you'll likely buy anyway. After you finish shopping, you take a picture of your receipt with a smartphone or tablet and upload it to iBotta. They confirm your purchase and credit your rebates, along with bonuses for regular redemption, referring friends, and completing other challenges. iBotta can be an easy way to knock $5 to $10 off your grocery bill.
View all posts